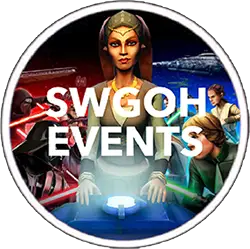 If you're looking to chat about events, rumors, and SWGoH - join our Discord.
Permanent Events
Permanent Events are available to access directly from the Journey Guide. Any Journey/Legendary/Epic Confrontation will be permanent after 1 year.
These events aren't permanent yet but will be very soon. Best guess is mid December. Please see the Road Ahead post for more information.
Follow SWGOH Events on Twitter | Privacy Policy | Marvel Strike Force Events